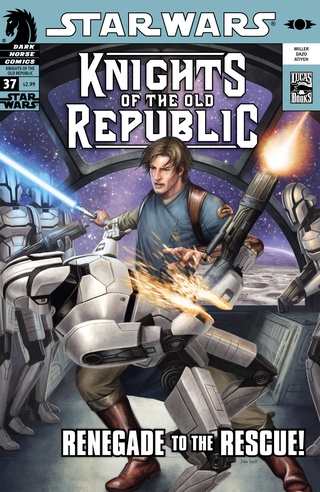 Star Wars: Knights of the Old Republic #37—Prophet Motive part 2 (of 2)

Former Padawan Zayne Carrick's new life takes a turn for the worse as a con gone wrong puts his friends in a deadly predicament!
Fleecing the corrupt financial exchange on Metellos 3 seemed like a victimless crime to Zayne's friends Jarael and Rohlan—until they became the victims! Now prisoners of a galactic criminal syndicate, Jarael and Rohlan must find a way to survive long enough for Zayne and his conniving cohort Gryph to rescue them!
Make sure to be there as the conclusion to "Prophet Motive" propels Knights of the Old Republic into a brand-new galaxy of adventures!
Creators
Writer

:

Artist

:

Colorist

:

Letterer

:

Cover Artist

:
Publisher:

Genres:

Release date:

02/01/2012