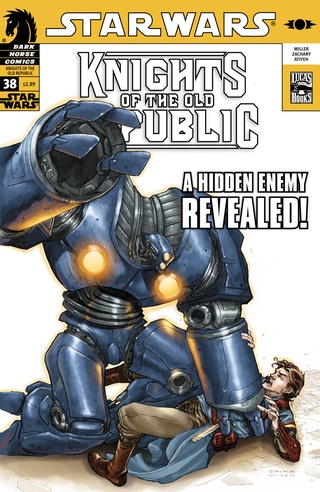 Star Wars: Knights of the Old Republic #38—Faithful Execution

Zayne Carrick and his crewmates Jarael, Slyssk, and the Mandalorian Rohlan investigate a pleasure cruise gone wrong!
Something horrible has happened aboard the Chancellor Fillorean; the former luxury ship now drifts aimlessly in a space nebula. Upon boarding the ghost ship, a host of asphyxiated passengers and two lone survivors—a tiny alien and his fierce droid bodyguard—are all that are found. Zayne and his friends must solve the mystery and find what has been causing the tragic and disturbing deaths—before they also become victims.
"Action-packed plots and dynamic artwork" -School Library Journal
Creators
Writer

:

Penciller

:

Colorist

:

Letterer

:

Cover Artist

:
Publisher:

Genres:

Release date:

02/01/2012