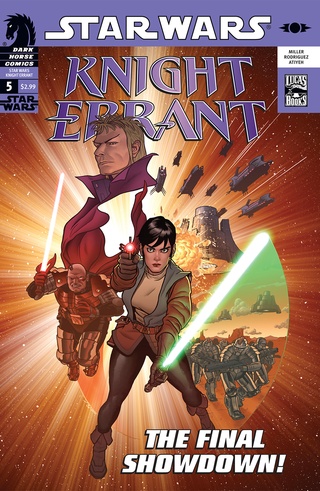 Star Wars: Knight Errant—Aflame #5

Who can be saved? What must be sacrificed? Kerra Holt will decide once and for all what it means to be a Jedi in the concluding issue of Aflame!
Sith Lord Odion and his army arrive at Chelloa prepared to take over the mining planet, but upon arriving, Odion finds a terrible surprise from his brother, Lord Daiman. World-devastating war is inescapable, but Kerra knows that when all hope is lost, that is when the Jedi are needed the most!
• John Jackson Miller is also the author of a Knight Errant novel for Del Rey!

• Read about Kerra Holt here first in Dark Horse comics!
Creators
Writer

:

Penciller

:

Inker

:

Colorist

:

Letterer

:

Cover Artist

:
Publisher:

Genres:

Release date:

07/22/2011